Crossing Coasts: Florida Atlantic Marketing Students Attend Summit in California
By Eileen Acello | 11/16/2023
Tags:
Bulletins | Marketing
Categories:
Academics | Faculty/Staff | Students
AMA Students Hosted by California State University - Chico
---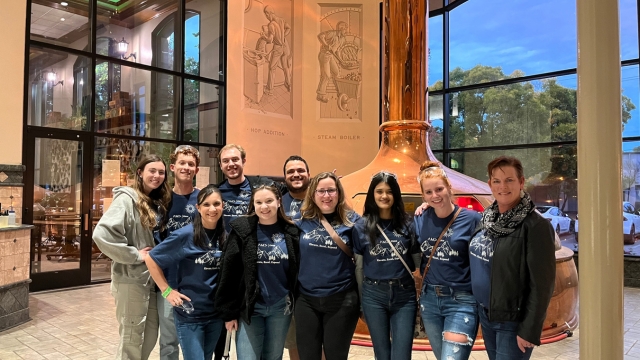 As the faculty advisor to the Florida Atlantic University American Marketing Association (AMA), I had the privilege of accompanying our students on an unforgettable journey. On November 3, 2024, I ventured with our AMA Co-Presidents, Hannah Garner and Allison Todd, across the country to Northern California, where we were welcomed alongside 150 attendees to a captivating event—the 6th Annual Women in Business Summit.
The catalyst for this remarkable journey began in the strong connection I developed with Kristin Minetti, AMA faculty advisor and co-founder of the Women in Business Summit at California State University-Chico (Chico State). Our shared roles on the Collegiate Chapters Council for AMA fostered a collaborative spirit between us that paved the way for this extraordinary experience.
The summit began with a vibrant networking "mixer" held at the Blue Agave restaurant. Sponsors (WorkDay, Syssero, Superhuman, Veza, and others), event speakers, and our eager students mingled together, setting the stage for an engaging and enlightening day to follow.
Throughout the summit, our students were immersed in a world of knowledge and empowerment. They participated in workshops, delving into crucial topics including interview skills, recruitment strategies, personal branding, and networking techniques. These workshops were not mere lessons; they were transformative experiences,filled with profound dialogues and idea exchanges. Our FAU students emerged from these sessions with newfound confidence and a renewed sense of purpose about their future careers.
Kristin Minetti, co-founder of the summit, greeted the attendees with warmth and wisdom, acknowledging their commitment to self-investment. April Howell, another co-founder of Women in Business, inspired all participants to embrace the unique challenges faced by women in the business world and to persevere through any adversity.
Dane Svinth, the President of the American Marketing Association at Chico State, brought a fresh perspective to the event. He was thrilled with learning how another AMA chapter, Florida Atlantic, operated across the country. Svinth highlighted the importance of sharing ideas and showcased their campus and city resulting in an enriching experience for all the attendees.
At the close of the summit, our students shared with me their reflections on their journey, the inspirational speakers, the breathtaking California scenery, and the bonds of friendship formed at Chico State:
"I had the chance to connect with fellow American Marketing Association students, which allowed us to share ideas about our club events and networking initiatives. I also had the privilege of attending enlightening breakout sessions and gained insights from influential keynote speakers."

~ Hannah Garner, Senior (Marketing)

"This event is a remarkable opportunity for young women to gain advice and insights about their careers."

~ Allison Todd, Senior (Marketing)
This journey was more than just an event. Attending the summit and connecting with other marketing students and future business leaders across the country was an invaluable experience and chapter in the story of our students' personal and professional growth. As their faculty advisor, I feel immense pride in witnessing their development through this sponsored opportunity. We eagerly anticipate more collaborations and experiences like this one, to continue enriching the lives and futures of our students in the fields of business and marketing.
-FAU-