Career Outlook - MIS

Overview of Career Outlook
Career Benefits
A minor in MIS enables you to specify, select, utilize, and apply Information Technology (IT) to your major field of study.
You will learn the skills and terminology needed to become an expert user of IT in the business world, to find IT solutions to business problems in all functional areas.
You will be able to help bridge your department with the IT managers
You will help your organization align its IT with business goals
You will participate in your department's most important decisions to choose the best IT to serve you.
IT Audit in Accounting is the highest paid job – an MIS minor will launch you there!
Either way, you will benefit from the interdisciplinary knowledge.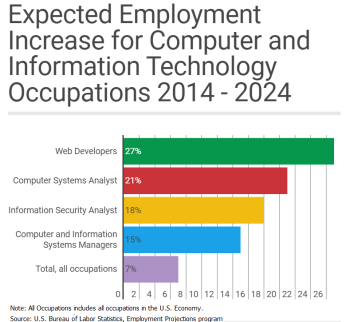 Professions that will benefit from a Minor in MIS
All majors will benefit from MIS Minor since Information Systems are everywhere!
"Planes don't fly and trucks don't roll without IT services," Robert Carter, FedEx Chief Information Officer
Our Graduates
Our graduates are among the most versatile and mobile professionals, transferrable among industries and locations.
Graduates of our programs have been placed in some of the top firms in the country including Microsoft, Citrix, and Office Depot
To see the recent job placement of our graduates, visit our "Where are they now?" page
To learn more about our graduates and hear their success stories, visit our Graduates page