FAU Rated Among Top Entrepreneurship Programs For Third Consecutive Year
By Paul Owers | 11/16/2021
Tags:
Entrepreneurship | Management
Categories:
Academics | Accolades
---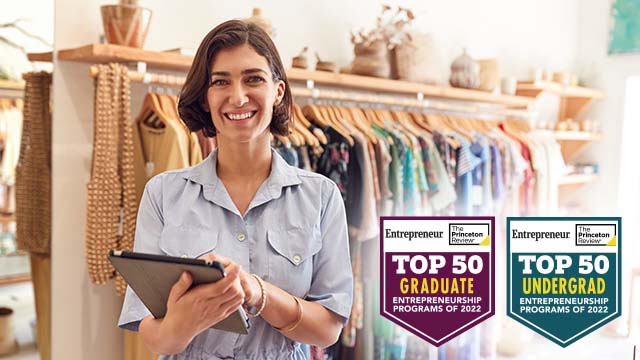 Florida Atlantic University's College of Business is again listed among the top 50 programs for entrepreneurship studies, according to the 16th annual rankings from The Princeton Review and Entrepreneur magazine.
FAU ranks No. 40 among graduate programs, a one-spot improvement from last year. FAU's undergraduate programs rank No. 47.
The rankings for 2022 identify the best programs among more than 300 schools for students seeking to become entrepreneurs.
FAU's academic programs in entrepreneurship and the staff at the Adams Center for Entrepreneurship teach students how to acquire an entrepreneurial mindset and turn their dreams for new business ventures into reality. Students learn to develop and test business models, write business plans, start businesses and seek outside investment to grow them.
College of Business faculty publish entrepreneurship research in top academic journals and provide high-quality formal and informal instruction. Students also benefit from a vibrant entrepreneurship community in South Florida, including the Research Park at FAU and other university initiatives, such as Tech Runway, the WAVE Competition, the Kenan Social Engagement Program and the Phil Smith Center for Free Enterprise.
"We are very pleased to be recognized for the third year in a row as one of the top entrepreneurship programs in the country," said Roland Kidwell, Ph.D., director of the Adams Center and chair of the Department of Management Programs at FAU. "This is a great achievement, particularly as schools across the country continue to devote more resources to entrepreneurship."
The Princeton Review, an education services company, posted the full lists and methodology at www.princetonreview.com/entrepreneur. The rankings are based on a summer 2021 survey.
Entrepreneur magazine will feature the rankings in its December issue and on its website at www.entrepreneur.com/topcolleges.
"We heartily recommend the fine schools that made our entrepreneurship studies ranking lists this year," said Rob Franek, The Princeton Review's editor in chief. "Their faculties are outstanding. Their programs have robust experiential components, and their students receive awesome mentoring and networking support that will serve them for years to come."
-FAU-