Executive MBA Alum Jonathan Beskin 15' on Delivering Paradise
By Denise Gravatt | 01/18/2022
Tags:
Entrepreneurship | Executive-Education | MBA
Categories:
Alumni | Accolades
Beskin: Entrepreneur, Founder and CEO of SinglesSwag / Paradise Delivered
---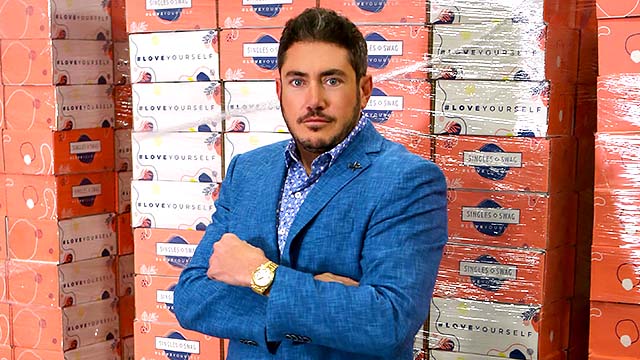 Like many students pursuing an Executive MBA at Florida Atlantic University, Jonathan Beskin was looking to leverage his degree for corporate ladder credibility in the financial sector where he worked. Little did he imagine a course topic on recurring revenue businesses would ignite his entrepreneurial spirit and lead him to launching a monthly subscription box service before graduating and landing at No. 181 on the Inc. 5000 list of fastest-growing companies (2020), right alongside Uber.
SinglesSwag—the niche subscription box filled with organic bath and beauty products, trendy accessories, jewelry, best-selling books, and other treats for women—emerged from Jonathan's idea to combine the good feels of receiving a gift in the mail with industry research and in-depth understanding of consumer demographics.
"2020 was an incredible year for us," said Jonathan. With the increased demand for home delivered subscription services that resulted from the global pandemic, SinglesSwag grew in its success by continuing to deliver inspiring and uplifting boxes to its customers at a time when they needed them most.
Securing a spot again on the Inc. 5000 list for 2021, SinglesSwag (delivering 40,000 boxes/month to more than 30 countries) and Paradise Delivered, its recently acquired sister brand aimed at giving subscribers a paradisal spa/vacation experience at home (with 10,000 boxes/month), have increased total revenue to $50 million in just five years.
In day-to-day business, Jonathan employs presenting and negotiating skills acquired in his MBA classes; he has also developed expertise in digital marketing and advertising. With a business focused primarily on women, using social media to engage a predominantly female audience is essential: "we were able to cultivate a community on social media"; currently they have nearly 1.3 million followers. Jonathan shared his advice taking a hands-on approach to all areas of business: "aspiring entrepreneurs think they need to hire a third-party agency if they do not have the background, but there is a lot of value in learning for yourself."
Generously giving back his time and experience to FAU students, Jonathan is a recurring guest speaker in marketing classes where he shares his real-world insights, challenges, and opportunities in the ever-evolving digital marketing landscape. His connections to FAU Business also include hiring fellow FAU alumni and being featured on the Shrimp Tank podcast a collaboration with FAU's Adams Center for Entrepreneurship where South Florida's best and brightest CEOs share about becoming successful entrepreneurs.

-FAU-