FAU Beta Alpha Psi Continues its Legacy of Superior Chapter Status
By Denise Gravatt | 11/09/2023
Tags:
Accounting | Bulletins | Finance | Our-College
Categories:
Academics | Accolades | Announcements | Faculty/Staff | Students
---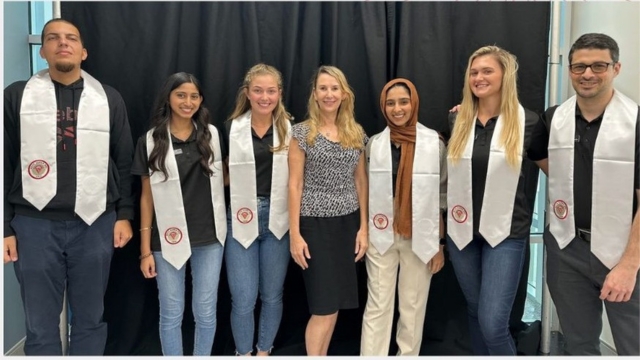 Once again, FAU's Beta Alpha Psi (BAP) chapter earned Superior Status recognition. Out of the over 300,000 members and over 300 college and university chapters, FAU is among the 123 to qualify as superior. A monetary award of $500 from the KPMG foundation is also given to each superior chapter.
Beta Alpha Psi, the premier international honor and service organization for financial and business information students and professionals, awards the Superior Status designation to BAP chapters based on the chapter's Reaching Out Activities, professional development workshops, and community service events.
The activities and efforts that led FAU's BAP chapter to be recognized as superior among its peers include involvement in regional and national BAP meetings along with hosting an array of on-campus professional development workshops and local community service events
A diverse team of FAU's Beta Alpha Psi members including management information systems and accounting students attended and presented at the 2023 Mid-Year Beta Alpha Psi meeting in Charlotte, North Carolina.
"Our chapter has become a more inclusive organization with finance and MIS majors along with accounting majors," said FAU BAP advisor and Senior Instructor, Angela Gaze, CPA.
The Beta Alpha Psi Annual Meeting took place in Las Vegas, and provided students with a weekend of networking, learning, and opportunity. Gathering with chapters from around the world, the annual event allows students to grow, give back, and enhance the entire BAP organization together.
Connecting with alumni, local accounting professionals, and firms, FAU's BAP provides multiple opportunities for professional development each semester with panels on current issues in the accounting profession and workshops on Excel. Meetings during 2023 included visits from RSM, Deloitte, Grant Thornton, EY, PwC, KPMG, BDO, CBIZ, MGO, A&M Tax, KSDT, Kaufman Rossin, Berkowitz Pollack Brant, and CohnReznick.
Service activities appealed to a variety of student interests: from volunteering at the Tri-County Animal Shelter to local beach cleanups, a volleyball event, and writing letters of appreciation to local first responders. FAU's Beta chapter has also taken on a more collaborative approach to community service in partnering with other student business organizations, like the Finance Student Association for even greater impact and fun.
"We in the School of Accounting are very proud of our Beta Alpha Psi students, said George Young, Ph.D., Director of FAU School of Accounting. "Their hard work, dedication, and desire to contribute to the accounting profession and to the betterment of themselves and their fellow College of Business students is exemplary. They and their advisor, Professor Angela Gaze, deserve high praise for their commitment to excellence in education and service," he said.
-FAU-