FAU Names New Director of Phil Smith Center for Free Enterprise
By Amber Bonefont | 09/06/2023
Tags:
Economics | Finance | Management | Phil-Smith | Press-Releases
Categories:
Alumni | Announcements | Faculty/Staff | Initiatives
---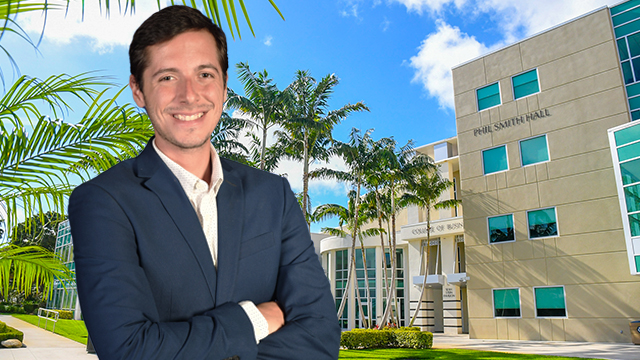 Florida Atlantic University has named Andrew Garrison as the new director of the Phil Smith Center for Free Enterprise in the College of Business.
Garrison, an adjunct professor, graduated from FAU's College of Business with a master's degree in economics in 2021 and a bachelor's degree in economics in 2020.
"I identify with the mission of the Phil Smith Center and welcome the chance to lead it in the coming year," Garrison said. "I'm thankful to the faculty who nominated me and look forward to promoting the mission of the center within the university and beyond."
The Phil Smith Center, named in honor of well-known South Florida business leader Phil Smith, advances thought leadership in business by supporting chaired professorships, research, and educational programs for faculty members and students. The center also hosts classes on economics, finance, and management, invites visiting faculty, organizes lecture series, as well as other activities that promote free enterprise and how those principles help affect growth and prosperity. The American Council of Trustees and Alumni (ACTA) awarded the Phil Smith Center as an Oasis of Excellence in 2020.
Garrison's upcoming plans for the center include forming a book club and inviting more speakers to the center for talks on economics.
"We are pleased to have Andrew Garrison step up as director of the Phil Smith Center," said Daniel Gropper, Ph.D., dean of FAU's College of Business. "We look forward to seeing Andrew build upon the success that Ana Albert had and continue to work with the FAU faculty and students to promote the understanding of the principles of economic freedom and free enterprise."
Smith was president and CEO of Phil Smith Automotive Group and passed away in 2016. A 1969 FAU graduate, Smith was named a distinguished alumnus of the College of Business in 2015. He also served as a member of the FAU Foundation Board.
-FAU-