Economics Costa Rica Study Tour
By Jennifer Mullins | 05/30/2023
Tags:
Academic-Advising | Bulletins | Economics | Hospitality | MBA
Categories:
Academics | Faculty/Staff | Students
---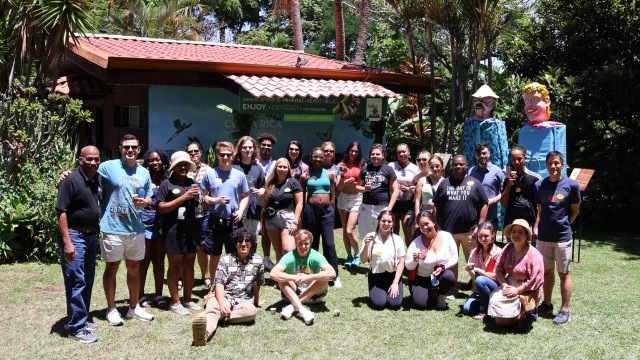 After a five-year hiatus, the College of Business Costa Rica Study Tour has resumed. This year, 24 students had the opportunity to enhance their business knowledge by traveling to Costa Rica. The Tour provides a unique opportunity for students to expand their business knowledge beyond the classroom. This program is designed to give students first-hand exposure to the dynamics of Latin American business practices. The tour not only provides an educational experience but also opens up an avenue for cultural exchange.
The program is open to students from different backgrounds and fields of study within the College of Business, making it an ideal opportunity for building relationships and networking. The itinerary includes visits to multinational corporations, local businesses enhancing our understanding of corporations, hospitality and medical industries, along with organizations that promote trade and foreign investment in Costa Rica. Additionally, the program allows students to explore the cultural richness of Costa Rica by visiting natural sites such as Volcano Arenal, coffee plantations, hot springs, and local schools.
---
"Embarking on an extraordinary journey through Costa Rica, I was captivated by the enchanting blend of natural wonders, cultural immersion, and influential encounters. From the majestic allure of the Arenal volcano to the heartwarming interactions at the local elementary school, each experience unraveled the tapestry of this vibrant nation. As I indulged in the flavors of authentic cuisine and had the privilege of meeting esteemed individuals, including the CEO of the Hilton, my horizons expanded, leaving an indelible imprint on my perception. This remarkable expedition has redefined my perspective, empowering me with a profound understanding of the interconnectedness between diverse landscapes, people, and opportunities."- Isabel Fransas (BBA Hospitality)
"I find great value in not only the educational aspects of the trip but also the relationships amongst peers"
" The trip is well balanced between leisurely fun and insightful experiences. Pura Vida!"
"A well-rounded trip!" – Kristy Sadocha (MBA Applicant)
---
The Costa Rica Study Tour is directed by Dr. Rupert Rhodd and Dr. Eric Chiang, who have been doing an excellent job for the past 16 years. The program is worth 3 credits in either ECO 4955 or ECO 6958, which are business electives applicable to most business majors and graduate degrees. Upon the completion of the tour, students are required to submit a trip report.
If you are interested in participating in the tour, you can contact your academic advisor or visit the Economics Study Tours website to learn more about the Economics Work Study in Costa Rica. Experience the Pura Vida culture and expand your business knowledge with the College of Business Costa Rica Study Tour in 2024.
---
"The Costa Rica Study Tour brought together 24 students of different backgrounds, ages, and fields of study. By the end of the week, not only did everyone enjoy the cultural and business experiences, but we became a family, with many lifelong friendships formed. That is the most rewarding aspect of hosting these tours over the past 16 years." Dr. Eric Chiang (Faculty)
"Being asked to join/ supervise the Costa Rica Study Tour was one of the most honorable opportunities I have ever been able to experience. I not only was able to learn about the Costa Rican companies and speakers, but form bonds with 24 FAU students, Dr. Chiang and Dr. Rhodd. This tour truly helped me grow personally and professional". – Michaela Smolka, M.S. (Graduate Advisor)
---
-FAU-