FAU's MBA Sport Management Program Takes Title Sponsorship of New ESPN 106.3 Show
By Paul Owers | 04/14/2021
Tags:
Executive-Education | MBA | MBA-Sport | Management | Press-Releases
Categories:
Announcements
---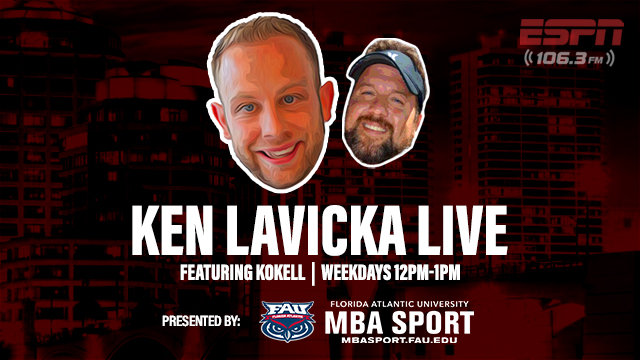 Florida Atlantic University's MBA Sport Management program is expanding its brand awareness by becoming the title sponsor of ESPN 106.3's new local show, "Ken LaVicka Live."
The April-through-December sponsorship includes live reads about the Sport Management program, as well as recorded commercials, promotional announcements, FAU sports updates and live interviews with FAU alumni and faculty.
"I could not think of a better way to celebrate five years of partnership and friendship with Good Karma Brands LLC and ESPN West Palm than to serve as the title sponsor of the newly launched Ken LaVicka Live show," said Jim Riordan, Ph.D., director of FAU's MBA Sport Management program in the College of Business. "This will give our program a national reach through a variety of genres. Those who have listened to Ken over the years know that he has the uncanny ability to discuss sports and sports business in a fun, easygoing way while still respecting the seriousness of the subject matter."
LaVicka has been the voice of FAU football and men's basketball for more than a decade.
"I've spent several years partnered with Dr. Riordan to help deliver the message that his FAU MBA Sport Management program is one of the world's best. It's elite," he said. "Because of this, I am honored that Dr. Riordan jumped at the opportunity to align the FAU MBA Sport Management program with my new show as the title sponsor. It makes an already strong partnership that much greater, and it is something I'm very proud of."
In addition to "Ken LaVicka Live presented by FAU MBA Sport Management program" from noon to 1 p.m., ESPN 106.3 hosts an all-star lineup of local and national programming, including "Keyshawn, J-Will & Zubin the morning," followed by "Greeny" hosted by Mike Greenberg, "Josh Cohen & The Home Team" from 3 to 5 p.m. and "Evan Cohen" on the drive home.
ESPN 106.3, owned by Good Karma Brands, started in 2003 and broadcasts from Boca Raton to Vero Beach, worldwide on the ESPN app or wherever you get your podcasts. The station also is home to Miami Heat and Miami Dolphins games in Palm Beach County and on the Treasure Coast.
"The new sponsorship expands our longstanding relationship with the FAU MBA Sport Management program and Dr. Riordan, which has existed for several years across a multitude of platforms, including the RoofClaim.com Boca Raton Bowl, ESPN Digital and radio with Ken LaVicka," said Stephanie Prince, ESPN West Palm's market manager.
-FAU-