Career Advising

The College of Business is committed to the growth of our students, and as such we are investing a little more into their future. In addition to Academic advising, which will ensure that students are academically well rounded and meet degree requirements, there is a Professional Development team with a slightly different goal.
Academic Advising
In any college, the guidance that is provided by Academic Advising is the cornerstone of a student's advancement in their degree program. The specialty here is one of guiding the student through the various requirements and standards that are called on by that particular academic program. These advisors serve to make sure that students do not take classes out of sequence or a last minute surprise by a pesky required class that was not addressed earlier in the program. If that was not enough, these advisors are also responsible for advocating on behalf of the student in many situations. One of the more common of these situations, is when a student is transferring from another school or program. This transfer student may have already taken courses at the past school that are equivalent to some required courses with the current school, but under a different title. Academic advisors, also help to substantiate equivalency of some courses.
The main goal of an academic advisor is to make sure the student is on the right track to graduate without getting lost in some of the confusion that can come from course or major selection. This is the main difference between Academic advising and Professional Development. Where a Professional Development coach will focus less on the courses taken, if at all, and more on what specific skills that student learned and used during the same classes. Focusing on application of content, explanation of skills, among other things a Professional Development coach is primarily interested in what that student will do after receiving the degree in question.
What is Professional Development?
While every student has their own reasons for attending higher education, there is a large majority of students that do so to increase the career opportunities afforded to them after graduation. Professional Development coaches are keenly aware of the challenges that new graduates face. From the student that is trying to enter the workforce for the first time, to seasoned professionals who return to college in pursuit of a Master of Business degree, this team can help guide and grow. Ultimately, the goal is to help the student bridge the gap between what they learned in the class room and how to market the newly learned abilities to prospective employers.
How?
This is where the Professional Development coaches shine. Every student brings with them different skills, talents, experiences, and of course goals. Thus there are several services that our coaches offer, depending on the specific need of each student. Below you will a quick diagnostic tool that may help determine what if and how a student can benefit from working with our Coaches.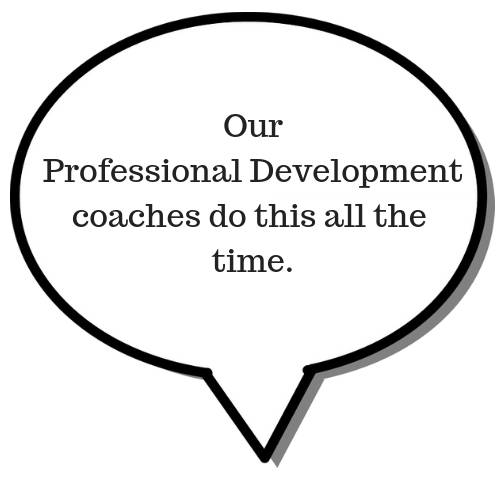 "I got this degree...now what?"

Career Counseling/Advising


"I sent out hundreds of applications
and nobody is calling me back"

Resume review and suggestions

"I haven't interviewed in so long,
I don't know what do..."
Interview coaching and guidance
"Every job I am interested in
requires experience, that I don't have..."
Internship and Experience building
or
Professional Skill translation
"I didn't get any practical skills out of my degree"


Skill calibration
The magic really happens during individual coaching sessions. If some of the above questions struck a chord with you, be sure to schedule an appointment through FAU's Success Network, but clickin on the button below.
The magic really happens during individual coaching sessions. If some (or ALL) of the above questions struck a chord with you, be sure to schedule an appointment through FAU's Success Network, but clicking on the calendar icon -------------->