Success Stories
Entrepreneur Boot Camp Success Stories
Click on each image below to read more about how the Entrepreneur Boot Camp helped these participants start and grow their business.
To learn more and register for the Entrepreneur Boot Camp click here.
| | | | |
| --- | --- | --- | --- |
| Adam Roth | Janice Haley | Lauren Koff | Jan Bednar |
Success Stories
Coral Springs Announces Winners of Innovate Downtown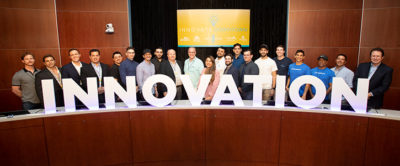 Coral Springs, FL - On Friday,March 1, the City hosted Innovate Downtown, which started with a presentation by Charles Schwartz, an independent wealth consultant. In addition to hosting the event, Charles spoke about the top three ways successful leaders disrupt everything thing we are taught about innovation,and how the rest of us can too. Schwartz then introduced 12 local creators who presented their inventions and technology to a panel of investors.
The following night at Unplugged, a music, food and arts festival hosted by the City of Coral Springs, the innovators showcased their creations to attendees – and the public were able to vote on the "crowd favorite."
The panel of judges, included local entrepreneurs and investors: Matthew Bordy, Rafael E. Hernandez, Barry Spiegel and Randall Wood.
After listening to all 12 presentations and receiving additional feedback through Q&A, the judges selected: Two Degrees, a technology company that created a proprietary algorithm using geo-location, phone and email contacts to spread awareness of local daily deals. The patented algorithm is what makes these connections go viral. Attendees at Unplugged picked "crowd favorite," Strawfish, LLC, a social venture with the mission of removing single-use plastics from our oceans – one straw at a time. This is done by partnering with an indefinite landscape of consumer purchasing destinations and proposing the opportunity to subsidize their current plastic straw cost by providing free paper straws. The only caveat is that the paper straws, provided to each individual company/establishment will have targeted advertisements printed with FDA-approved ink on the straw itself.
Winners each received $1,250 courtesy of Bluestream, three coaching sessions and an in-house 3D print courtesy of Prototype House and Two Degrees received a scholarship to attend 4Geeks Coding Academy.
Congratulations each of the participants in Innovate Downtown. The City of Coral Springs is proud to offer solutions and a showcase for businesses and start-ups to present their innovative ideas. We look forward to hosting the event again in 2020!
4Ocean Co-Founders Andrew Cooper and Alex Schulze named Forbes 30 Under 30 Social Entrepreneurs
Graduates of Florida Atlantic University in 2014, the two took a surfing trip to Bali, Indonesia which would ultimately change their lives and the fate of the ocean. Devastated by the amount of plastic in the ocean, they set out to find out why no one was doing anything about this growing problem. Fishermen from a local fishing village were pushing boats through piles of plastics. The two surfers recognized that the proliferation of plastic threatened both the ocean environment and the fishermen's livelihood. Cooper and Schulze realized that they could hire fishermen to pull plastic from the ocean and thus began 4Ocean.
Founded in January 2017, 4ocean funds its efforts from the sale of 4ocean bracelets made from recycled materials. Every bracelet purchased removes one pound of trash from oceans and coastlines. In less than two years, 4ocean has removed 2.2 million pounds of plastic and trash from the waterways. Additional 4ocean products include reusable bottle and cleanup combos.
Business Plan Competition Winners
Congratulations to the winners of the
2018 Business Plan Competition!
1st Place: LOCK IT PLATES
Lock it Plates provides a secure and more reliable way to transport food and perishables for the world in an inexpensive and accessible way compared to the traditional food containers. Lock it Plates has designed the first lockable, disposable, reusable and secure plastic plates that make eating on the go that much easier.
2nd Place: ROIZO
Innovative strength training products that increase the performance of athletes. Roizo is a consumer products company with a new grip apparel technology aimed at changing the current athletic landscape, starting with the Roizo grip shirt, grip sleeves, and grip socks.

3rd Place: CONTIGUITY SPATIAL SOLUTIONS

CSS provides customized solutions to businesses in the geospatial field, by specializing in developing tools and applications utilizing the latest technologies. CSS takes charge of understanding the needs and gaps of companies in this field and applying new technology to solve these problems.

People's Choice: MILAMU

At Milámu, we hand-produce high-end beautycare products, including essential oil blends, through applying natural elements which hold active ingredients to effectively fight skin deficiencies and maintain a healthy lifestyle.
Congratulations to the winners of the
2017 Business Plan Competition!
1st Place & Best Interdisciplinary Team: PAPER
Protection Against Physical Element Removal (PAPER) is a system designed to help prevent against the theft of physical classified documents. Governments and enterprise businesses are in need of PAPER as there is limited technology available in preventing the theft of physical classified documents. PAPER utilizes conductive nanoparticle ink to 'tag' documents, allowing for our system to detect if classified documents are being removed from the premises.

2nd Place: RIPPLE

Ripple is a creative micro influencer agency that empowers local celebrities by offering them the ability to rent their social media real estate. Ripple was founded by two young entrepreneurs that believe that creativity, freedom, and technology will shape the future. Ripple is among the best micro-influencer marketing platforms and will be pioneering marketing for the next decade.

3rd Place:IDLE

Idle Automation provides self-driving shuttles for university campuses, retirement communities, resorts where short distance travel is cumbersome or inaccessible. We sell entire fleets of vehicles outfitted with various sensors, computing hardware, and our self-driving software. Users can request one of our shuttles through our mobile apps where all a user needs to do is select their destination and how many seats are needed. A vehicle is immediately dispatched and Idle takes care of the shuttle when the trip is completed. This is the simplest way to get you where you need to go.

People'sChoice: FIT FAMILIES OF SHOUTH FLORIDA

The purpose of Fit Families of South Florida is to increase awareness and educate families that striking a balance between eating right and staying active is crucial for the health and overall success of their children.
| | |
| --- | --- |
| Finalist:SNEAKER IQ | |
| | With the sneaker resale market being valued conservatively at $2.1 billion and the sneaker eCommerce industry as a whole worth approximately 15 billion, Sneaker iQ is here to capitalize off it. Sneaker iQ is a multi-vendor e-commerce platform that facilities transactions between buyers and sellers, who are looking to purchase highly sought after, authentic sneakers that won't be found sitting on shelves in Foot locker or Champs. |
| Finalist:BACON BOXES | |
| | Founded in 2015, Bacon Boxes is the first company to gain Department of Agricultural licensing to produce bacon roses for sale nationwide. The bacon is hand crafted and sourced pasture raised from family owned farms that utilize a higher standard of animal and crop care. Since the initial launch Bacon Boxes has began a subscription service and expanded into confectionary products. |
Contact Us
Roland Kidwell
Director
Adams Center for Entrepreneurship
Kevin Cox
Assistant Director
Adams Center for Entrepreneurship
DeSantis Pavilion 201
777 Glades Road
Boca Raton, FL 33431
adamscenter@fau.edu
phone: 561-297-3654
Fax: 561-297-2675
map: DS (87) 201