Veterans Florida Entrepreneurship Program
Get Help Starting Your Veteran-Owned Business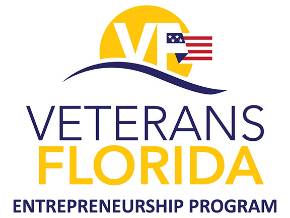 Veterans Florida is a non-profit corporation created by the State of Florida to help veterans transition to civilian life. The organization connects veterans to employers and connect employers with grant funds to hire and train veterans while educating veterans on how to open their own businesses in Florida.
Florida Atlantic University is a network partner of Veterans Florida Entrepreneurship Program that offers on-campus instruction and access to local resources such as business leaders and mentors. We encourage veterans to sign up for entrepreneurship courses!
VISIT THE VETERANS FLORIDA WEBSITE
FAU's Veterans Entrepreneurship Program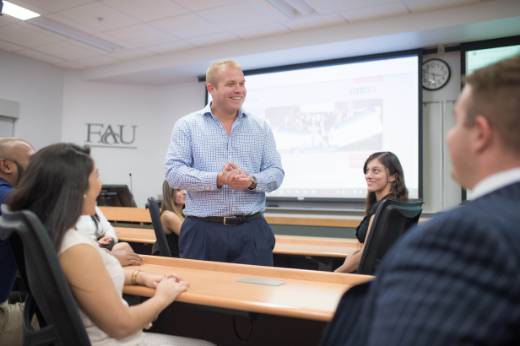 This entrepreneurship course is an immersive and comprehensive educational program designed for current or future businesses owners. The 8-week program provides Veterans with the knowledge and skills they need for starting and/or growing their businesses. In addition to the in-depth educational program all participants are paired with a successful entrepreneur who provides direct guidance and mentorship throughout the program and beyond.
Registration is open for the Spring 2023! Register HERE.
Thursdays | February 9 - March 30, 2023
6:00 - 9:00pm | Boca Raton Campus
or
Saturdays | February 4 - March 25, 2023
9am - 12pm | Boca Raton Campus
FAU Veterans Florida Alumni Success Stories
Steve Edwards, founder of PremierVirtual, virtual job fair platfrom continues expansion and success

Governor's Young Entrepreneur Award goes to FAU Veteran Entrepreneurship Program graduate


TALLAHASSEE, FL — Boca Raton businessman Logan Skees received the Governor's Young Entrepreneur Award in 2017 as a graduate of the Florida Veterans Entrepreneurship program offered by FAU Adams Center for Entrepreneurship
Contact Us
Roland Kidwell
Director, Adams Center for Entrepreneurship
kidwellr@fau.edu
Kevin Cox
Assistant Director, Adams Center for Entrepreneurship
kcox24@fau.edu
Maria Neira
Program Manager, Veterans Program
mneira2014@fau.edu
Cell: +1 (561) 324-6632
Adams Center for Entrepreneurship
777 Glades Road
DeSantis Pavilion DS-201
Boca Raton, FL 33431
adamscenter@fau.edu
phone: +1 (561) 297-3654