Success Stories
Tim S. Marshall - "The Power of Breaking Fear"
As an FAU College of Business alumni, award-winning author of "The Power of Breaking Fear", and founder of one of Inc. Magazine's "Fastest Growing Companies in America", my experience at Florida Atlantic University gave me an education of unsurpassed quality and taught me priceless critical thinking and problem solving skills outside of a textbook. After I was awarded my Bachelor of Business Administration degree with a Minor in Marketing, I went out into the business world far more prepared because of completing my degree (complemented by taking Entrepreneurship classes at the College of Business) and with a commitment to truth that I leveraged into building thousands of business relationships over the course of my career. This was furthered through a lifelong dedication to excellence and integrity that I originally gained right here – at Florida Atlantic University.
Congratulations to the winners of the 2018 Business Plan Competition!
LOCK IT PLATES - 1st Place
Lock it Plates provides a secure and more reliable way to transport food and perishables for the world in an inexpensive and accessible way compared to the traditional food containers. Lock it Plates has designed the first lockable, disposable, reusable and secure plastic plates that make eating on the go that much easier.

ROIZO - 2nd Place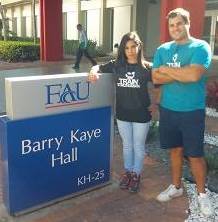 Innovative strength training products that increase the performance of athletes. Roizo is a consumer products company with a new grip apparel technology aimed at changing the current athletic landscape, starting with the Roizo grip shirt, grip sleeves, and grip socks.
CONTIGUITY SPATIAL SOLUTIONS - 3rd Place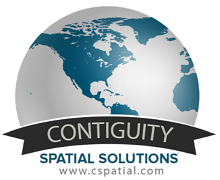 CSS provides customized solutions to businesses in the geospatial field, by specializing in developing tools and applications utilizing the latest technologies. CSS takes charge of understanding the needs and gaps of companies in this field and applying new technology to solve these problems.


MILAMU - People's Choice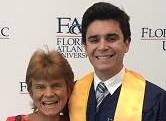 At Milámu, we hand-produce high-end beautycare products, including essential oil blends, through applying natural elements which hold active ingredients to effectively fight skin deficiencies and maintain a healthy lifestyle.


2017 Winners:


PAPER - 1st Place & Best Interdisciplinary Team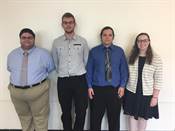 Protection Against Physical Element Removal (PAPER) is a system designed to help prevent against the theft of physical classified documents. Governments and enterprise businesses are in need of PAPER as there is limited technology available in preventing the theft of physical classified documents. PAPER utilizes conductive nanoparticle ink to 'tag' documents, allowing for our system to detect if classified documents are being removed from the premises.

RIPPLE - 2nd Place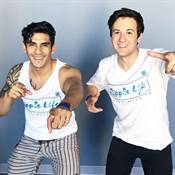 Ripple is a creative micro influencer agency that empowers local celebrities by offering them the ability to rent their social media real estate. Ripple was founded by two young entrepreneurs that believe that creativity, freedom, and technology will shape the future. Ripple is among the best micro-influencer marketing platforms and will be pioneering marketing for the next decade.

IDLE - 3rd Place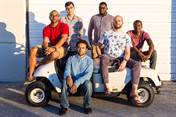 Idle Automation provides self-driving shuttles for university campuses, retirement communities, resorts where short distance travel is cumbersome or inaccessible. We sell entire fleets of vehicles outfitted with various sensors, computing hardware, and our self-driving software. Users can request one of our shuttles through our mobile apps where all a user needs to do is select their destination and how many seats are needed. A vehicle is immediately dispatched and Idle takes care of the shuttle when the trip is completed. This is the simplest way to get you where you need to go.

FIT FAMILIES OF SOUTH FLORIDA - People's Choice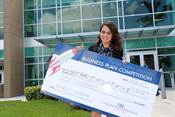 The purpose of Fit Families of South Florida is to increase awareness and educate families that striking a balance between eating right and staying active is crucial for the health and overall success of their children.

SNEAKER IQ - Finalist

With the sneaker resale market being valued conservatively at $2.1 billion and the sneaker eCommerce industry as a whole worth approximately 15 billion, Sneaker iQ is here to capitalize off it. Sneaker iQ is a multi-vendor e-commerce platform that facilities transactions between buyers and sellers, who are looking to purchase highly sought after, authentic sneakers that won't be found sitting on shelves in Foot locker or Champs.

BACON BOXES - Finalist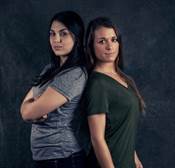 Founded in 2015, Bacon Boxes is the first company to gain Department of Agricultural licensing to produce bacon roses for sale nationwide. The bacon is hand crafted and sourced pasture raised from family owned farms that utilize a higher standard of animal and crop care. Since the initial launch Bacon Boxes has began a subscription service and expanded into confectionary products.
Boca Businessman Receives Governor's Young Entrepreneur Award
Logan Skees, who co-founded Trainerspace, received the Governor's Young Entrepreneur Award

TALLAHASSEE, FL — Boca Raton businessman Logan Skees received the Governor's Young Entrepreneur Award on Tuesday. The 25-year-old Marine Corps veteran co-founded personal training studio Trainerspace with two other U.S. military vets. Skees serves as director of business development for the business.
His partners are Cary Reichbach and Chris Brown. Skees completed the Veterans Florida Entrepreneurship Program in 2016.
"I'm proud to recognize Logan with the Young Entrepreneur Award today for his hard work to grow Trainerspace," Gov. Rick Scott said. "I would also like to thank him for his service in the military. Florida is one of the best states in the nation for veterans, and we'll keep working to ensure our brave service members like Logan have every opportunity to succeed in our state."
Skees said that he was "beyond grateful" for the recognition.
"Empowering our clients at Trainerspace to reach more of their full potential through both safe and effective personal training is an absolute privilege," he said. "I am honored to continue my service to this great nation through combating our greatest adversaries: obesity, heart disease and diabetes. Semper Fi."
Veterans Florida is a non-profit corporation created by the State of Florida to help veterans transition to civilian life. The organization connects veterans to employers and connect employers with grant funds to hire and train veterans while educating veterans on how to open their own businesses in Florida.


Contact Us
Adams Center for Entrepreneurship
DeSantis Pavilion 201
777 Glades Road
Boca Raton, FL 33431
adamscenter@fau.edu
phone: 561-297-3654
Fax: 561-297-2675
map: DS (87) 201
Roland Kidwell
Director
Adams Center for Entrepreneurship
Kevin Cox
Assistant Director
Adams Center for Entrepreneurship