Entrepreneur Boot Camp
Join us for a Special boot camp!
Data Science and Machine Learning
for Executives, Business Owners, and Entrepreneurs.
Business leaders must continuously navigate the shifting landscape and deploy technology to achieve the greatest measure of success in their endeavors. Data Science presents new avenues of opportunity, and many businesses are quickly adopting data science methodologies to advance their goals.
This lecture is designed for the executive, business owner, and entrepreneur with minimal experience in data science and machine learning. The objective is to prepare non-technical stakeholders to be effective partners with data scientists and other technical staff on data science related projects. Additionally, this presentation is intended to help stakeholders determine if data science is the appropriate direction for their project, as well as help set realistic expectations for such projects.
Topics include:
Data science and machine learning basics (commonly used terms, definitions, and related concepts)
How is machine learning different from traditional programming?
Common examples of data science in everyday life
What are some of the strengths and weaknesses of data science approaches?
When is a machine learning approach appropriate? When is it not?
What are the prerequisites and corequisites for using data science?
What are the roles of each team member in a data science initiative?
What steps should be taken before launching a data science initiative?
An overview of data science timelines, personnel required, and related concerns
The lecture will be followed by questions and answers.
If you have any questions or want to know how to get involved in the future, email adamscenter@fau.edu.
Check out SUCCESS STORIES from previous entrepreneurship boot camp students!
Instructors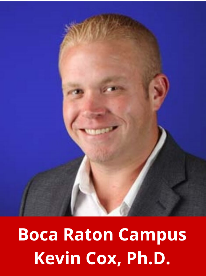 Kevin Cox has a Ph.D. in Entrepreneurship from Florida Atlantic University's College of Business. Prior to pursuing his Ph.D., Kevin received his degree in Management, with minor in Entrepreneurship as well as a Master of Science in Entrepreneurship from the University of Florida. Currently, he serves as the Assistant Director for the Adams Center for Entrepreneurship at FAU, Entrepreneurship Professor, instructor for the new venture accelerator at FAU's Tech Runway, instructor for FAU's entrepreneurship bootcamp, and manager/instructor for FAU's Veterans Florida Entrepreneurship Program. To date Kevin has taught, mentored, and worked with hundreds of startups providing expert advice and consultation support the survival, growth, and performance of these early stage businesses. He has also published many research papers and book chapters, as well as dozens of conference papers on entrepreneurship.
Contact Us
Adams Center for Entrepreneurship
Kevin Cox, Ph.D.
email: kcox24@fau.edu
Tel: 561-297-4932