Entrepreneur Boot Camp
Whether you're an aspiring entrepreneur or ready to take your existing business to the next level, the Entrepreneur Boot Camp is for you.
Registration is now open for Spring 2023!
Wednesdays | February 8 - March 29, 2023 | 5:30 - 8:30pm
Location: FAU Boca Raton or Jupiter campus
Upon completion of the Boot Camp, you will be prepared to enter the prestigious FAU Business Pitch Competition or the FAU Tech Runway Launch Competition and compete to fund your business.
Through 24 contact hours, Entrepreneur Boot Camp students learn:
How to deliver value to your customer.
How to validate an effective business model.
How to write an effective business plan.
How to pitch a plan to investors.
How to determine sales methods and how to project sales revenues and expenses.
How to find seed funding for your new venture.
How to enter a business plan in the prestigious FAU Business Pitch Competition and compete for seed funding

In addition, Entrepreneur Boot Camp students will:
Discover the most effective research tools available, from using databases in researching competition to understanding customer segments.
Learn how to create a valuable marketing plan.
Learn how to gain investor attention from family and friends, crowdsourcing, SBA, and institutional funding.

Course Overview
Entrepreneur Boot Camp is made up of eight sessions and includes access to mentor consultation via the Entrepreneur In Residence program.
All participants will receive a Florida Atlantic University Certificate upon satisfactory completion of all sessions as well as assignments and class discussions. To receive the FAU certificate, unexcused class absences must not exceed two (2) sessions and participants must be on time.
Offered online and in-person when conditions permit.
Check out SUCCESS STORIES from previous entrepreneurship boot camp students!
Instructors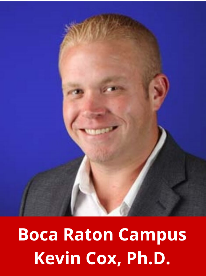 Kevin Cox has a Ph.D. in Entrepreneurship from Florida Atlantic University's College of Business. Prior to pursuing his Ph.D., Kevin received his degree in Management, with minor in Entrepreneurship as well as a Master of Science in Entrepreneurship from the University of Florida. Currently, he serves as the Assistant Director for the Adams Center for Entrepreneurship at FAU, Entrepreneurship Professor, instructor for the new venture accelerator at FAU's Tech Runway, instructor for FAU's entrepreneurship bootcamp, and manager/instructor for FAU's Veterans Florida Entrepreneurship Program. To date Kevin has taught, mentored, and worked with hundreds of startups providing expert advice and consultation support the survival, growth, and performance of these early stage businesses. He has also published many research papers and book chapters, as well as dozens of conference papers on entrepreneurship.
Contact Us
Adams Center for Entrepreneurship
Kevin Cox, Ph.D.
email: kcox24@fau.edu
Tel: 561-297-4932