FAU Business Plan Competition
The annual FAU Business Plan Competition is hosted by the College of Business, Adams Center for Entrepreneurship with support from local partners and sponsors. The competition encourages FAU students, faculty, staff and recent graduates to pitch their game-changing idea for a chance to fund their new ventures! Along with prize money, teams compete for legal and business services, space at FAU's Tech Runway and the opportunity to present their business plan to local angel, venture capital groups and more. Competitors have the opportunity to meet and network with successful entrepreneurs. Resources are provided to aid students in the creation and implementation of their businesses. Students will gain valuable skills and experiences to be successful.
CLICK HERE TO SUBMIT YOUR APPLICATION!
If you are interested in participating in a future Business Plan Competition, email adamscenter@fau.edu for more information on how to participate.
Congratulations to our 2021 first place winner, Marine connex!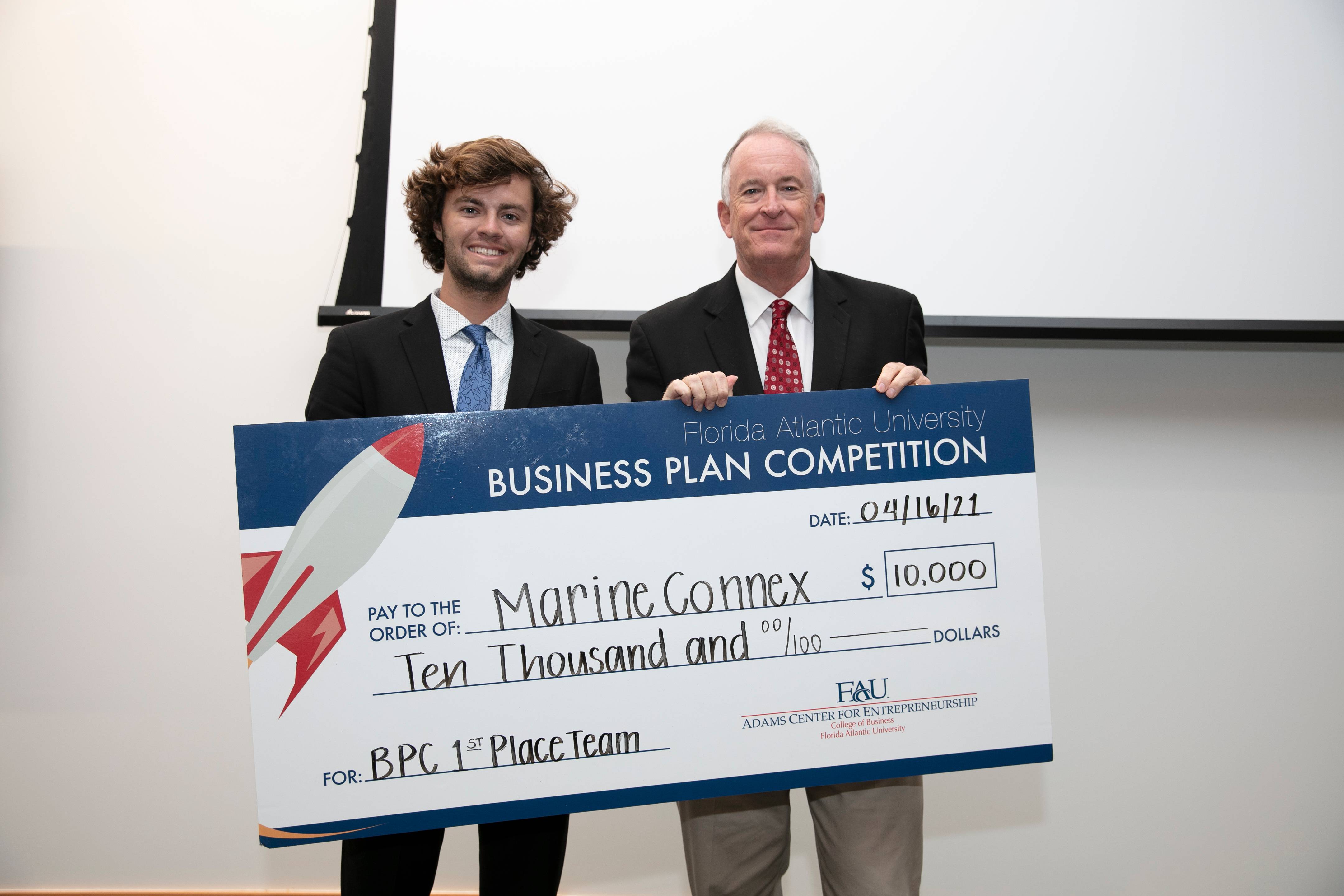 Thank you to our 2021 Finals Round Judges!
| | | | | |
| --- | --- | --- | --- | --- |
| | | | | |
| Jan Bednar | Ahmed Bekhit | Ali Mandsaurwala | Ilyse Shuster-Frohman | Erica Sullivan |
Congratulations to our OTHER FINALISTS!
The Brack Institute

The Brack Institute Incorporated, a nonprofit corporation, narrows the opportunity gap between classes. It works with schools to help low-income students. The student participants develop their interests, make discoveries, and pursue their goals.

Serenity Now

Serenity Now is a Seasonal Subscription Box, Custom Gift Shop and Online Community designed to help you calm your stress and anxiety. Think of it as relaxation delivered right to your doorstep- four times per year!

SPods

SPods [Sanitizing Pods] is a small hybrid pod innovation that allows users to wash hands without the use of any external water supply. Emergency response teams such as UNICEF and Doctors Without Borders who work tirelessly and spend billions on Water, Sanitation, and Hygiene measures for infectious disease control in healthcare settings and informal settlements will now be able to issue to billions of people universal access to handwashing through a more distributable, convenient, and attractive mode.



P.E.A.C.E.

PEACE Inc stands for Protecting the Elderly with AI for Clinical Emergencies.The objective of this project is to employ AI pose-tracking technology in detecting patterns of atypical movement and to provide a faster forewarning for potential medical incidents such as falls in seniors, expediting reactivity to such emergencies.
CONTACT US
---
Adams Center for Entrepreneurship
p: 561-297-3654