2016 Polls
December 2016
Overall, 47 percent of Hispanics think Trump will make the economy better while 53 percent think he is going to make the economy worse.
Only 30 percent of Hispanics think Trump will improve the United States' relationship with other countries while 70 percent think he will worsen them.
Hispanics are split on their level of trust toward the federal government with 47 percent saying they have fair amount or a great deal of trust and 53 percent saying they have not very much trust or not at all.
November 2016
Hispanics are more cautious about their holiday spending this year with 1 in 5 saying they will not be shopping at all.
The number of respondents who said they would not shop in 2016 has increased by 10 points since the 2015 survey, from 11 percent to 21 percent.
Younger Hispanics appear to be less cautious, however. As a group, 18 to 34 year olds said they are more likely to shop this holiday season, with only 10.8 percent saying they are not planning on shopping.
Hispanics will rely more on debt this year, with 29 percent using credit cards to pay for their purchases compared to 25 percent in 2015.
October 2016
In Florida, Hillary Clinton has a three point lead over Donald Trump 46% to 43% with 6% undecided.
Trump has a 17-point lead among white voters, 53 to 36 percent. Clinton has a 49-point lead among African Americans, 73 to 24 percent, and leads with Hispanics, 68 to 19 percent.
In the Senate race Senator Marco Rubio leads 46% to 42% over Republican Patrick Murphy.
Among likely voters in Florida, Clinton leads Trump 49 percent to 43 percent with 7 percent undecided.
Among all likely voters in Florida, Clinton leads with both females (51 percent to 42 percent) and males (46 percent to 45 percent).
Clinton also continues to enjoy a big lead in the Hispanic poll, winning support from 52 percent of voters compared to 33 percent for Trump, 4 percent for Libertarian candidate Gary Johnson and 10 percent undecided.
September 2016
Hispanics backing Clinton in Key Battleground States of Ohio, Colorado Nevada, North Carolina and Florida.
Clinton leads Trump with 18-34 year old Hispanics in all 5 states.
Trump suffers from a very unfavorable image in all 5 states.
August 2016
Overall, 77 percent of Hispanics use social media to read political news stories, including 87 percent of those 18-34 and 86 percent of those earning $75,000 or more a year.
69 percent of Hispanics 18-34 years of age are going online for political news at least once per day and 60 percent of them get most of their political news from the Internet.
Males are more likely (44 percent) than females (33 percent) to seek out opinions that are in line with their own views, while those age 55 and above are more likely to seek out contrary opinions than younger people.
Donald Trump leading Hillary Clinton 43% to 41% among Florida Voters.
Both Patrick Murphy (D) and Marco Rubio (R) are leading by wide margins in their respective party primaries for US Senate.
In the potential general election match up for Senate, Rubio leads Murphy by 5 points 44% to 39%.
The top issue for voters was Dissatisfaction with Government at 29%, followed by jobs at 18%, immigration at 13% and ISIS at 12%. No other issue reached double digits.
The top quality voters seek when choosing who to vote for president is experience at 27%, followed by Commander-in-Chief at 16%, Trustworthiness at 15% and focus on the economy at 14%.
July 2016
Hillary Clinton leads Donald Trump by 48 percent among Hispanics.
Clinton was the choice of 66 percent of respondents, while 18.3 percent chose Trump and 15.8 percent were undecided.
Hispanics continue to view Clinton as better than Trump for the economy overall (62.5 to 23 percent) and keeping them safe from terrorism (56.2 percent to 22.9 percent).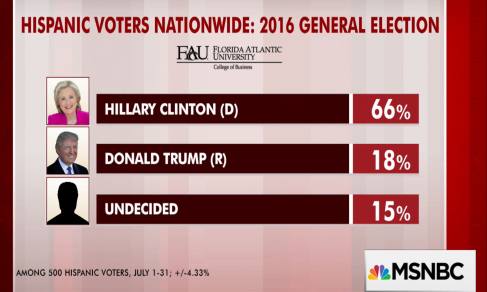 June 2016
Nearly 80 percent of Hispanics consider global warming to be a somewhat serious or very serious problem, up almost seven percent from a year ago.
Voters from both parties appear to be concerned about global warming, with 85 percent of Democrats and 76 percent of Republicans saying it's a problem, along with 69 percent of Independent voters.
A majority of Hispanics (54 percent) consider global warming an important issue in who they will consider for president in the 2016 election.
Democrats placed a higher emphasis on the issue, with 46 percent saying global warming should be a high to very high priority, compared with 27 percent of Republicans.
May 2016
Hillary Clinton leads Donald Trump by 23 percent among Hispanics.
Clinton is winning the female vote 51 percent to 19 percent, as well as males, who favor her 49 percent to 28 percent.
Hispanics view Clinton as better for the economy overall (50 to 33 percent) and keeping them safe from terrorism (56 percent to 27 percent)
April 2016
An increasing number of Hispanics are finding it harder to afford healthcare and the percentage of those without any health insurance is up slightly over a year ago
The majority of Hispanics still have a favorable view of the Affordable Care Act (ACA or Obamacare) and for the first time more women are insured than men
Political partisanship appeared to play a part in influencing respondents' opinions on healthcare politics
March 2016
A new Florida Atlantic University statewide poll has GOP front runner Donald Trump surging with the support of 44% of likely Republican primary voters, and an overall 23 point lead on his closest competitors Ted Cruz and Marco Rubio who are statistically tied at 21%.
On the Democratic side, Hillary Clinton maintains a healthy 28 point lead over Bernie Sanders (59% to 31%), but their overall race has tightened 16 points since November and September when Clinton held a 44 point lead.
The most important quality in a Presidential candidate for Democrat voters was experience at 64% and for GOP voters was being a strong Commander in Chief at 25%
The most important issue for GOP primary voters is dissatisfaction with the Government at 42% and followed by the economy at 17%. On the Democratic side, the most important issue was the economy at 38% and followed by dissatisfaction with the Government at 19%



January 2016
Donald Trump has surged nearly 12 points in the last two months and is closing on half of the GOP vote in Florida, where Hillary Clinton has improved in all head-to-head matchups against GOP frontrunners
Trump leads the GOP field with 47.6 percent, followed by Ted Cruz at 16.3 percent, Marco Rubio at 11.1 percent and Jeb Bush at 9.5 percent.
On the Democratic side, Clinton has strengthened her position in head-to-head matchups with the GOP frontrunners.

BEPI Polls featured on MSNBC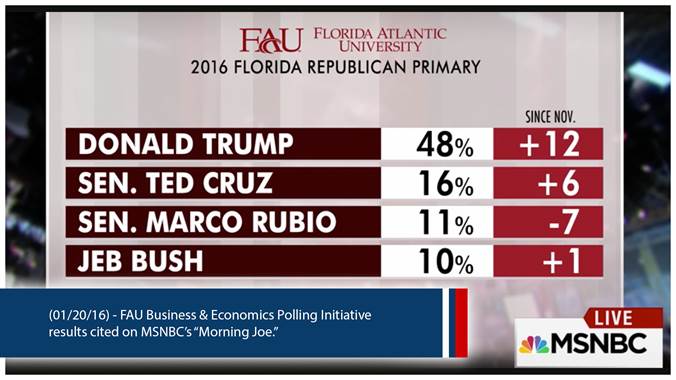 Play Video
BEPI Poll results tweeted out by @realDonaldTrump Donald Trump