Terjesen Honored for Work as Entrepreneurship Educator
By Paul Owers | 01/21/2022
Tags:
Bulletins | Entrepreneurship | Management
Categories:
Accolades | Announcements | Faculty/Staff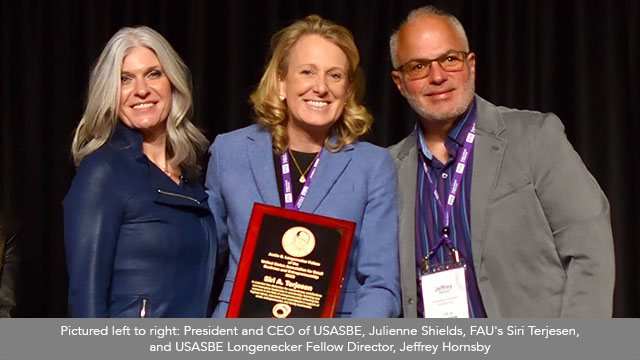 Professor and Associate Dean Siri Terjesen, Ph.D., has been named as a Justin G. Longenecker Fellow, the highest honor given by the United States Association for Small Business and Entrepreneurship (USASBE) to those who promote small and medium-sized businesses.
The award recognizes people whose teaching, writing, research and public service reflect a commitment to entrepreneurship. Only about 90 educators, researchers, government officials and others have been honored since 1986.
Terjesen was inducted at an in-person ceremony in Raleigh, North Carolina in January, alongside Bill Gartner of Babson College, SherRhonda Gibbs of Northern Colorado University, and Luke Pittaway of Ohio University. The late Justin G. Longenecker is renowned for his research, teaching and advocacy for entrepreneurs.
"This year's recipients represent the best qualities that entrepreneurship educators embrace," said Julienne Shields, president and CEO of USASBE. "They are curious, discerning, generous, engaging, spirited and are committed to helping both students and peers in the pursuit of deeper understanding and success."
Terjesen joined FAU in Fall 2019. She recently was honored as one of the world's most cited researchers in a ranking by Stanford University. She also serves as one of 15 voting directors to the National Board for Education Sciences, which advises the U.S. Department of Education's Institute for Education Sciences.
Terjesen serves as a reviewer for the European Commission's Horizon 2020 project and the Swedish and Norwegian governments' higher education agencies. She is editor of Academy of Management Perspectives, Small Business Economics, Journal of Risk & Financial Management, Industry & Innovation and Beta. She has been principal investigator (PI) or co-PI on $6 million in research grants and gifts during her career.
Terjesen has won teaching awards at FAU, Indiana University and American University for her entrepreneurship and strategy classes.
"One of the key messages in my classes is 'You are CEO of your life,'" she said. "Entrepreneurship is about achieving the highest levels of human flourishing and self-actualization."
USASBE, founded in 1981, seeks to advance entrepreneurship through teaching, scholarship and practice. The Decatur, Illinois-based organization also publishes a peer-reviewed academic journal and develops resources and professional development opportunities for educators dedicated to entrepreneurship.
-FAU-