FAU Offers Free Course for Veterans Who Want to Own a Business
By Joshua Glanzer | 10/20/2023
Tags:
Adams-Center | Centers | Entrepreneurship | Our-College | Press-Releases
Categories:
Academics | Announcements | Faculty/Staff | Initiatives
---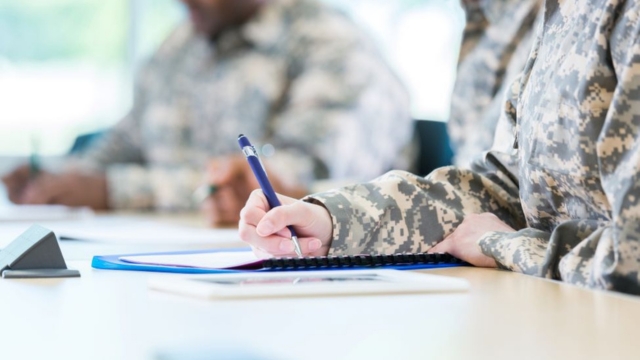 Military veterans hoping to start or grow a business can learn the basics through a free course offered by Florida Atlantic University's Adams Center for Entrepreneurship.
The FAU Veterans Florida Entrepreneurship Program (VFEP) consists of workshops and networking sessions to help veterans determine whether their ideas, businesses, products or services are marketable to the general public. It will take place every Tuesday and Thursday, beginning Oct. 24 through Nov. 16, from 5:30 to 8:30 p.m., at FAU's College of Business Building, Room 112, 777 Glades Road, Boca Raton campus.
Participants will produce and complete a business model and be paired with an entrepreneur mentor to guide them through the program. To register, click here.
"Creating a business is a dream for many Americans, and this is a vitally important program that gives veterans the opportunity to learn what it takes to start, run and maintain a successful venture," said Kevin Cox, Ph.D., director of the Adams Center.
The program, fully funded by the Veterans Florida nonprofit organization, is open to Florida residents who are honorably discharged veterans, active-duty members or members of the United States Reserves. It also is open to spouses who attend with another participant who meets the qualifications.
Those who successfully complete the course will be eligible to enter FAU's Business Pitch Competition for veterans in spring 2024. The annual event gives prospective entrepreneurs the chance to compete for startup seed funding.
This is the ninth consecutive year that FAU has hosted VFEP, but the first time offering a startup course in the fall. Past participants of FAU's VFEP include Steve Edwards, owner of Premier Virtual; Logan Skees, of Valdaeon; and Jonathan Borgwing, CEO of LearnVig.
"It's great having a lengthy and successful history," Cox said. "We now benefit from an extensive network of alumni who support the program."
The FAU Adams Center prepares students and entrepreneurs in all disciplines who are looking to become successful business owners. It was named in 2001 for Scott Adams, an FAU Tech Runway alumnus and CEO and co-founder of STRAX Intelligence Group.
Veterans Florida was created by the state to help military veterans transition to civilian life and to promote Florida's status as the nation's most veteran-friendly state. Veterans Florida provides powerful tools for veterans to take advantage of the benefits of living and working in the Sunshine State.
For more information about FAU's VFEP, contact the Adams Center at Adamscenter@fau.edu or 561-297-3653.
-FAU-