Internship Program
Earn course credit – ISM 4940 or ISM 6942 - while working as an intern!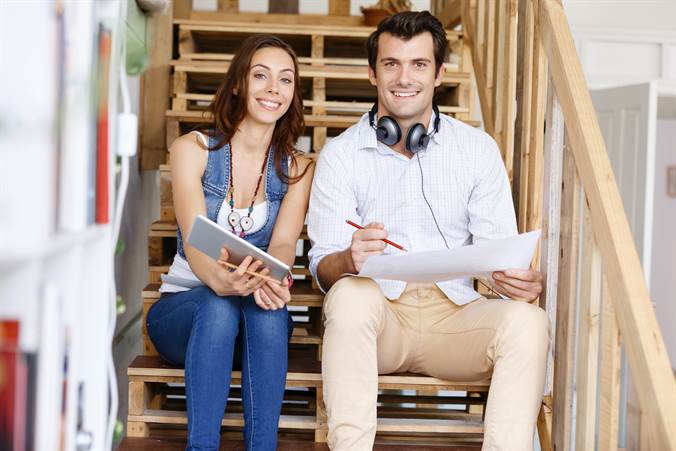 Why should you get an internship?
Interning is a great way to enter the workforce. The experience of working as an MIS/OM professional is valuable and will help build your resume. Quite often, these positions convert to full-time jobs.
Internships have never before been more closely tied to permanent hiring than they are today. Companies increasingly view them as a recruiting tool because they are a way to test-drive potential employees. Conversely, interns can test-drive the company to see if it's a good fit, professionaly and personally.
Many local companies are looking for students with skills in IT and digital marketing, such as web development, programming, information security, data analytics, databases, operational and document and process management, system analysis, and information systems management.
Many job opportunities are announced at the Career Development Center at FAU and at the College of Business. Many companies also directly contact the ITOM department asking us, your professors, to contact you directly. Every semester we successfully place many students as interns in local companies. Many are offered full-time employment following their internship.
Still not convinced? Internships are so important to starting a career that the New York Times (NYT) printed an article in 2011 emphasizing their importance: "The Internship as Inside Track"
"Internships have long been a part of the collegiate learning experience, but have never been more closely tied to permanent hiring than they are today" (NYT, 2011)
"Companies increasingly view them as a recruiting tool because they are a way to test-drive potential employees." ( NYT, 2011)
"Conversely, interns can test-drive the company to see if it's a good fit, professionally and culturally." (NYT, 2011)
You can earn 3 credits toward your degree if you register for the Internship for credit course, ISM 4940 (undergraduate) or ISM 6942 (graduate). Your work at the internship itself and your coursework (e.g. status reports, employer feedback, and a project paper) constitute the course credit. This makes the ITOM internship experience very rewarding because you simultaneously receive an academic and active learning experience.
Internship for credit candidates need to have at least 9-12 MIS/OM credits by the semester they will intern in order to be successful in their internship goals.
Check postings for internships in the IT/OM area through the FAU Career Development Center.
Check the College of Business Academic Advising office for internship opportunities specifically related to business
Get involved with the ITOM process of finding internships by signing-up for the distribution list to express your interest in obtaining an internship (see the next section for details).
Use your personal network and professional contacts to find an internship opportunity on your own.
Every semester the ITOM professor who teaches ISM 4940 and ISM 6942 actively engages local businesses to try to procure as many opportunities for the MIS/OM students as possible. Members of the ITOM Advisory Board are involved in the process as well. It is also common for companies to directly contact the ITOM department when the need for student interns arises, as this often expedites the process of finding student talent. In this way, your professor will have many internship opportunities to distribute only to interested students.
If you want to engage in internship opportunities through the ITOM department, you must sign up for the email distribution list using the form below. The email distribution list enables the professor to interact with a small, focused group of interested students to coordinate the available internships and the students' applications, and to serve as a mediator between specific students and companies to help finalize an internship.
Your professor will work directly with you and the companies working with the ITOM department to match skills, needs, and interests on both sides. Thus, a very personalized and customized communication is generated to try to place all students in an internship. All students who choose to go this path of securing an internship need to be prompt and responsive to communication and continue to be actively engaged until the internship is secured.
If you do not sign up for the distribution list, you will not receive communications about internship offers and opportunities only available through the ITOM department. This does not prevent you from landing an internship in other ways – you may still earn course credit for an internship you earn through other routes.
Click here to access the Google Form to sign up for the internship email distribution list. Please note that you must login using your FAU credentials to access the form.
Deadlines to sign up for the ITOM internship distribution list:
| Internship semester | Deadline for Email List |
| --- | --- |
| Spring | October 15 |
| Summer | March 15 |
| Fall | June 15 |
Students can register for ISM 4940 (undergraduate) or ISM 6942 (graduate) course only if they have secured an internship with an employer. To receive course credit, the internship must be related to MIS or OM. Registration for the class is only upon permission by the professor.
After you secure an internship, email the professor teaching the course the following information about your internship offer:
Name and address of the company
Name and email/phone number of your direct supervisor (if not known at the time of the offer, the name of the person who made you the offer)
Time period you will be working as an intern
Short description of your responsibilities
Once the professor receives your information, s/he will give you permission to register for the course if all requirements are met.
If you have any questions about the internship for credit program at ITOM, please email the ITOM Department Chair, Dr. Tamara Dinev, at tdinev@fau.edu.