Business Communications Program
Effective communication is an essential component of any business. In fact, most employers consider strong writing, speaking, and interpersonal communication skills as most important when interviewing job candidates and deciding who to hire. It is also a primary consideration when promoting individuals into leadership positions. Former CEO of Ford Motor Company, Lee Iacocca, once said, "You can have brilliant ideas, but if you can't get them across, your ideas won't get you anywhere."
To ensure our graduates have the necessary tools to compete successfully in the global workforce, we offer a unique program that helps both undergraduate and graduate students enhance their communication skills. Our expert faculty brings both extensive academic credentials and solid business experience to the classroom; communication is approached in a practical, real-life manner with immediate application to students' current studies, current jobs, and plans for achieving career goals.
We limit class size, so all students receive (1) personalized feedback on all assignments; (2) individual coaching sessions allowing students and instructors to work together and address the students' specific needs; and (3) opportunities—both in formal presentations and discussions—to speak up in class, be heard, and hear others' points of view. We create a welcoming and collegial learning environment in which the classroom communication models effective communication for the business world.
We welcome and are prepared to work with communicators at varying skill and comfort levels; our attention to individual students helps to address many issues, and we also recommend tutoring for students who can use additional time.
Mission Statement:
The Business Communications Program supports the vision of the FAU College of Business: to powerfully impact our business community through nationally recognized academic excellence. Specifically, this Program will enhance students' academic excellence in their business courses by giving them strategies to develop strong communication and critical-thinking skills. These skills will also help students succeed in their careers and have a powerful impact in their field.
More about Business Communications.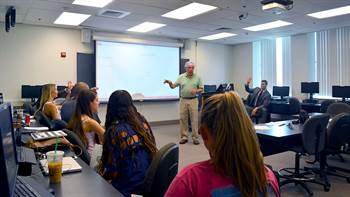 Learn about our innovative program.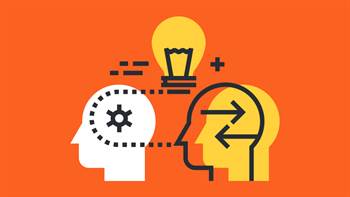 Access valuable communication resources such as instructional videos, writing guides, and more.
Scholarships
The following list of scholarships was created by donations from individuals and organizations for students of the College of Business (COB). The FAU Foundation and the Dean's Office administer the scholarships once per year at the start of the Fall Semester. Some scholarships are made from the interest accrued on endowed funds. The scholarships may be expendable or endowments. Therefore, each scholarship fund is reviewed and awarded on a case by case basis. To apply, select the red application button to the right. Awards to scholarship recipients are received in writing approximately one month after the application window closes.